List of 93 Impromptu Speech Topics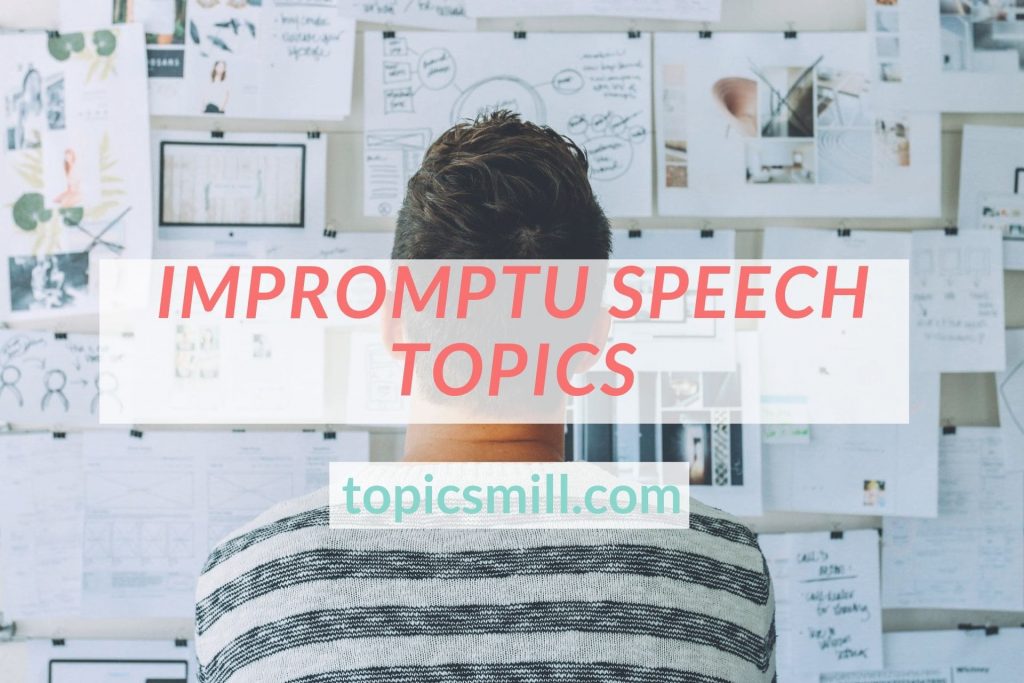 As modern technology continues to interfere with our lives and determine lifestyles, even personal traits, kids in high school, middle school and college students struggle to maintain their rich vocabulary, literature style of speaking and writing, as well as dexterity to come up with original ideas. School and university education are trying to cope with this issue by implementing some interesting strategies that stimulate students to think creatively, generate unique ideas in a minute and develop their eloquence while taking part in controversial debate.
Impromptu speech topics are one of the best ways to do this and the whole concept refers to picking one of the cards with weird question regarding all from personal experiences to list of things you'd do if you were a queen, coming up with a quick interesting reply and elaborating it using high-quality rhetoric. This task might turn out to be hard, however simple it seems, and therefore many students prefer to get at least slightly prepared for it. Using any topic from this list and following top tips for easy speech construction, will help you come up with a good and humorous stories and replies, practice your debate skills and score high during this school or college year.
A day in my life.
A day that stands out.
A job I'd love to have.
A trip to remember.
Alien abductions
All-time favorite movie
An experience with a bully.
An important lesson I've learned.
Bottles versus cans?
Bottles vs. cans
Curfews
Describe your worst experience.
Discuss the most memorable event in your life.
Discuss your favorite movie, book, etc.
Does technology live up to its promise?
Dogs are better than cats (or vice versa)
Ghosts I'd like to meet.
Ghosts you'd like to meet
Great things about snow days.
Great things about the ocean.
How to achieve your dreams.
How to annoy an older sister.
How to be a beekeeper
How to be a slacker.
How to become a comedian
How to buy a car
How to impress your parents.
How to make a pizza
How to make your favorite meal
How to plan a party.
How to save money.
How to spend a rainy day.
How to walk a dog.
I lost it!
If cats/dogs ruled the world.
If I could design a school.
If I could have dinner with anyone.
If I could only eat three foods forever.
If I could travel through time.
If I had a million dollars to give away.
If I had invented school.
If I were in charge of school lunches.
Interesting things you see in the sky.
Is a glass half full or half empty? Explain your choice.
Is capitalism the best political and economic system? Defend your choice.
Is knowledge more important than wisdom?
Motorcycle helmets
My favorite book.
My favorite day of the year.
My three favorite animals.
peer to peer technology
Real or fake Christmas trees?
Real vs. fake Christmas trees
Review the last movie you saw.
Should smoking be allowed in public spaces?
Speed dating
The assassination of a dictator can / cannot be justified
The best letter of the alphabet.
The best parts of a parade.
The best surprise ever.
The best theme park rides.
The morality of zoos
The most successful person you know
The smartest cartoon character.
The worst chores at home.
The worst/best book you ever read
Things I'll never eat.
Things to remember when you're camping.
Things you can make out of snow.
Three surprising facts about me.
Three things I'd change if I ruled the world.
Three things that scare me.
Three things you do well
Uniforms in school
Violence on TV
What I've learned from cartoons.
What is the most significant effect of the internet?
What is your favorite animal?
What moral issue best defines you?
What you would find in my closet. Make something up.
What you'd find under my bed. A spider named Fred and his cousin who can't find a job.
Which came first: the chicken or the egg?
Whom do you admire most?
Why are humans so fascinated with understanding the universe?
Why books are important.
Why I deserve an allowance.
Why I like my town.
Why sports are important. I'm no good, so I'll tell you how bad I am.
Why you need a baby brother.
Why your mom/dad is special.
Your favorite hybrid animals
Your favorite smart phone app
Your first memory