Commemorative Speech Topics
Created: 15.04.2019
Updated: 10.04.2020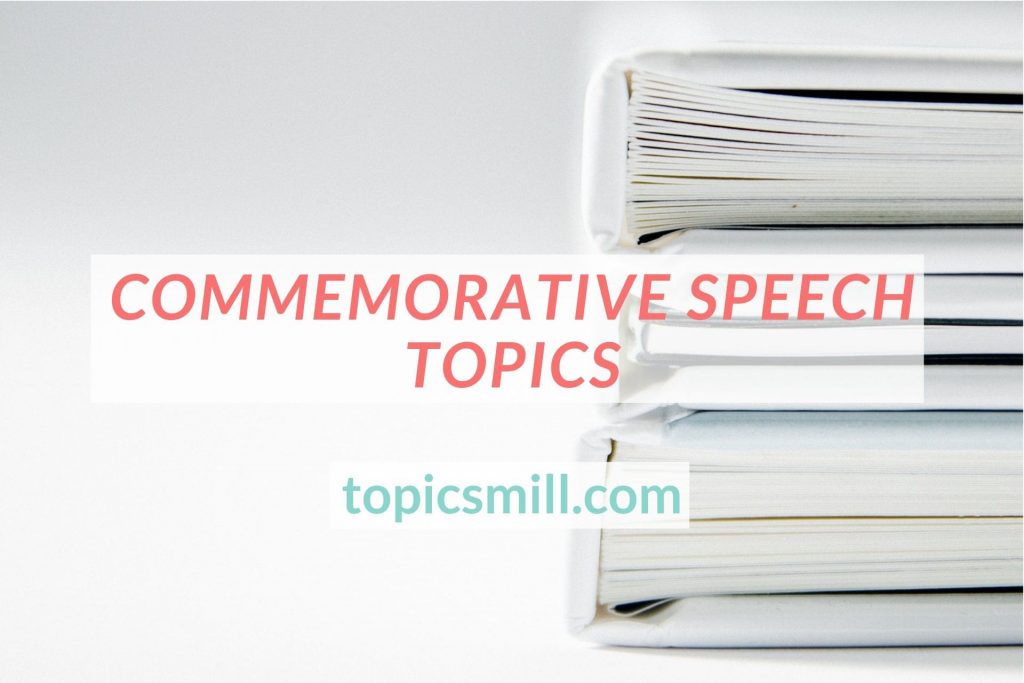 Ceremonial speeches are often required in everyday life situations and whether you are making an assignment or you are supposed to pay tribute and respect to a specific person, get the right format of organization and ideas, you are expected to construct touching and moving speech with a clear dedication and the best idea.
Writing commemorative speech may not be easy, since you should meet the certain criteria, present powerful story about the chosen topic and outline certain values in conclusion while balancing between being ritual, official, universal and sentimental.
When faced with this specific assignment, sticking to the mere definition of ceremonial speech isn't enough, so define your ideas and construction of speech looking up to the list of commemorative speech topics.
This will not only inspire you, provide you with fresh ideas and catchy sentences, but it will also stimulate your creativity and eloquence while making this speech. If you have ever learned a new skill or developed a talent, you know that the best is to look up to the more experienced, thus choose the adequate example from the list, follow the construction and sample presented in the sample and try to reconstruct its writing style.
List of 45 Commemorative Speech Topics
Academic success achieved by your group and what it qualifies you for
Bravery: You can commemorate incidences of bravery, brave individuals or just the idea.
Cheerfulness: Attitude is everything.
Civil War Events: There are so many events that you could commemorate from this war.
Compassion: The world could use a little more commemoration.
Compromise: Use incidences or examples of compromise.
Creativity: This would certainly be a creative option!
Dedication: Commemorate a person or an event that represents dedication.
Dreams: Use this to commemorate the dreams of great thinkers or movements.
Eulogy for a professor that taught a course at your university
Faith: Many people like to choose this for a commemorative speech topic.
Freedom: This type of speech is quite common around patriotic holidays.

Our Partner

Get your speech written by a professional writer

StudyСlerk

Gandhi: Known for his civil disobedience techniques, Gandhi was the inspiration for Martin Luther King's approach to the Civil Rights Movement.
Gay Marriage: You can celebrate major milestones in the gay rights movement.
Hard Work: This could commemorate the value of hard work or examples of it.
Honesty: The world could use a little more honesty.
Hospitality: Nice.
Humility: Too many people are honored for their bravado, so humility is undervalued today.
Independence: You could celebrate the independence day of just about any country.
Innovation or Inventions: The list of inventions and innovations you could use for a commemorative speech topic is nearly endless
Kindness: Use this if you think that the world could use a little more kindness.
Love: The world could always use a little more love.
Loyalty: You could commemorate someone who represents loyalty in your own life or just in the lives of others.
Mother Teresa: An excellent choice.
Patriotism: Many holidays use this as a theme for different speeches.
Peace: Peace is both an important goal and a good thing to commemorate.
Pearl Harbor: This type of commemoration speech topic is quite common.
Perseverance: You could commemorate a person, place or event that represents this ideal.
Quality of education received and opportunities opened by your academic institution
Queen Elizabeth I: She is an example of strength, intelligence and talent.
Selflessness: There are many people who symbolize this value.
September 11: This type of speech often happens around September 11 as a way to commemorate the lives lost on 9/11.
Strength: There are many different people and examples of strength that you can use.
Success of your team in a sports event/league which was possible due to support from your university
Team Work: This would be a good option.
The Civil Rights Movement: You can pick major moments of the Civil Rights Movement to commemorate.
The Creation of the Atomic Bomb: This could be a part of a World War II commemoration or a recognition of the bombs being dropped on Japan.
The Declaration of Independence: This would be an important event to commemorate.
The End of Slavery: This is an important thing to commemorate.
The End of the Vietnam War: You could also commemorate the war itself or the veterans who fought in it.
The End of World War II: This continues to be a major commemoration event.
The Printing Press: The creation of the printing press led to the growth of ideas, education and learning throughout the world.
Tribute to a great teacher or nurturing mentor
Veterans: This is a popular option around veterans day.
Women's Rights Milestones: This is one of the better commemorative speech topics.